Osso Buco with Polenta Dumplings
This version of osso buco is topped off with polenta dumplings instead of the more-familiar gremolata.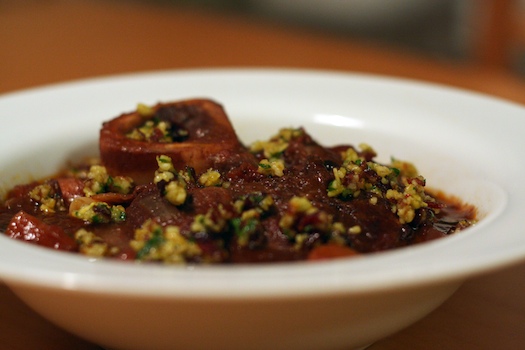 Ingredients:
5 lbs veal shanks
1 bulb garlic
5 shallots
5 carrots
5 stalks celery
2 large leeks
3 lbs plum tomatoes
4 sprigs fresh thyme
1/2 bunch fresh parsley
2 tbsp olive oil
1/2 cup red table wine
3 cups Beef Stock
3 bay leaves
*1/2 recipe Basic Polenta, cooked
Kosher salt
Fresh-cracked black pepper
Preparation:
1 – Preheat oven to 350F. Rinse the veal shanks and pat dry with paper towels. Peel and thinly slice the garlic and shallots. Peel and roughlt chop the carrots and celery. Clean and roughly chop the leeks and tomatoes. Clean and roughly chop the thyme and parsley.
2 – Heat the oil to medium-high temperature in a heavy-bottomed oven-proof pot with tight-fitting lid. Sear the shanks on all sides. Add the carrots, celery, leeks, shallots, and garlic. Saute for 5 minutes. Add the tomatoes, and stir.
3 – Pour in the wine, and reduce by half the volume. Add the stock. Reduce heat to medium, and bring to simmer. Cover the pan and place in the oven. Braise for 4 hours, then add the herbs and simmer 30 more minutes.
4 – Remove the pan from the oven and place on the stovetop over medium-high heat. Drop in heaping tablespoonfuls of the polenta. Cover, and cook for 15 to 20 minutes. Remove bay leaves.
5 – Sprinkle to taste with salt and pepper. Ladle into bowls, and serve.
Servings – 8 to 10
Mangiare!

Print Recipe