Seafood Lasagna
A wonderful Italian recipe especially in the summer time.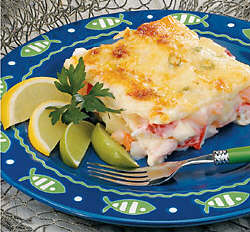 Ingredients:
1 lb finnan haddock, filleted, skin removed and flesh flaked
4 ounces shrimp
4 ounces sole fillet, skin removed and flesh sliced
juice of 1 lemon
4 tbsp butter
3 leeks, very thinly sliced
1/2 cup all-purpose flour
2 1/3 cups milk
2 tbsp clear honey
1 3/4 cups grated mozzarella cheese
1 lb precooked lasagna
2/3 cup feshly grated Parmesan cheese
black pepper
Preparation:
1 – Put the haddock fillet, shrimp, and sole fillet into a large bowl and season with black pepper to taste and a little lemon juice. Set aside while you start to make the sauce.
2 – Melt the butter in a large saucepan. Add the leeks and cold, stirring occasionally, for 8 minutes. Add the flour and cook, stirring constantly, for 1 minute. Gradually stir in enough milk to make a thick, creamy sauce.
3 – Blend in the honey and mozzarella cheese and cook for 3 minutes longer. Remove the pan from the heat and mix in the fish and shrimp.
4 – Make the alternate layers of fish sauce and lasagna in an ovenproof dush, finishing with a layer of fush sauce on top. Sprinkle the grated Parmesan cheese and bake in a preheated oven at 350F for 30 minutes. Serve immediately.
Servings: 4

Print Recipe