A blended sauce of Roma tomatoes,garlic, basil leaves and olive oil is spooned over spaghetti andsprinkled with grated cheese.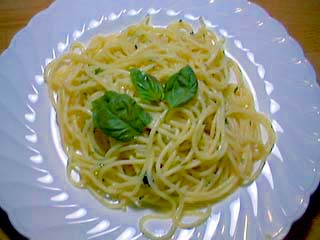 Ingredients:
• 1/2 pound of spaghetti
• 1 pound of Roma tomatoes
• 3 cloves of garlic
• Basil leaves
• Salt and black pepper
• 1/2 cup of extra virgin olive oil
• Grated pecorino-romano cheese
• Garlic bread
Preparation:
Put 6 cup of water to boil. Add the spaghetti and cook for 8to 10 minutes or just until tender. Meanwhile in the blender,blend together roma tomatoes, garlic, basil, salt, pepper and olive oiluntil smooth. Drain pasta well and add the garlic-tomato sauce.Sprinkle with pecorino cheese. Serve pasta with garlic bread.
Number of servings: 4

Print Recipe